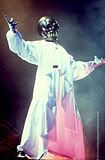 THERE WERE ALOT OF RANDOM RECORDINGS THAT SCOTTOMATIC AND I MADE OVER THE YEARS.WE WERE GETTING INCREASINGLY BORED AND FRUSTRATED WITH SAMPLING AND SPLICING AND CUTTING AND PASTING AND FUSSING AND FESSING.WE STARTED RECORDING MORE LIVE STUFF,PLAYING INSTRUMENTS,FREAKING OUT,BANGING ON THINGS ETC.WE SENT SOME OF THESE TO LABELS AS DUB DIABLO AND THEY THOUGHT WE WERE RETARDED.SO WE CALLED THIS PROJECT "MAGIC KNIVES".HERE ARE SOME SAMPLINGS..
THIS FIRST ONE IS A PINK SKULL REMIX WE DID FOUR YEARS AGO.NEITHER I NOR
JULIAN
CAN EVEN PLACE THE ORIGINAL SONG BECAUSE WE ONLY USED THE SNARE DRUM FROM THE ORIGINAL.WE BASICALLY WROTE A NEW SONG AND GAVE IT TO JULIAN.WHEN HE HEARD IT I THINK HE SAID, "WHAT IS THIS"?
UNTITLED PINK SKULL - MAGIC KNIVES REMIX
THIS NEXT ONE SOUNDS LIKE RIDE.(WITHOUT WORDS)
CHANTCES - MAGIC KNIVES
THIS ONE IS A LINE I TOOK FROM A MOTHERS OF INVENTION SONG.CREEPY.
IF YOU WERE MY DAUGHTER - MAGIC KNIVES