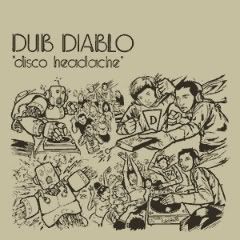 THIS WAS THE FIRST DUB D RECORD THAT WE DID.IT WAS ALSO THE FIRST RECORD THAT
DIS - JOINT REORDS
PUT OUT.THE 98 VERSION WAS RECORDED IN THE SUMMER OF 1998 WITH MY MAN SCOTTOMATIC AS A GOING AWAY PRESENT FOR MY FRIENDS, AS I WAS MOVING TO SAN FRANCISCO. A YEAR LATER IN S.F. IT MADE ITS WAY INTO THE HANDS OF COOL CHRIS (of groove merchant).CHRIS TOLD US TO MAKE A B SIDE AND HE'D PUT IT OUT ON HIS NEW LABEL.SCOTT MOVED OUT TO S.F. AND WE RECORDED THE 2000 MIX,GOT A COMIC BOOK ARTIST TO DRAW US AS SUPERHEROES BATTLING A ROBOT TRANCE DJ AND THERE YOU HAVE IT.MY FAVORITE RECORD IV'E DONE TO DATE.
HER'S WHAT SOME SMART PEOPLE HAD TO SAY ABOUT IT...
"if you can't feel this you can't feel" - URB
"essential" - XLR8R
"a sublime breakbeat 12 inch" - THE FADER
LATER THE 2000 MIX WAS USED AS THE INTRO MUSIC IN SPIKE JONZE'S
YEAH RIGHT
SKATE VIDEO.
DOWNLOAD - DISCO HEADACHE 98
DOWNLOAD - DISCO HEADACHE 2000