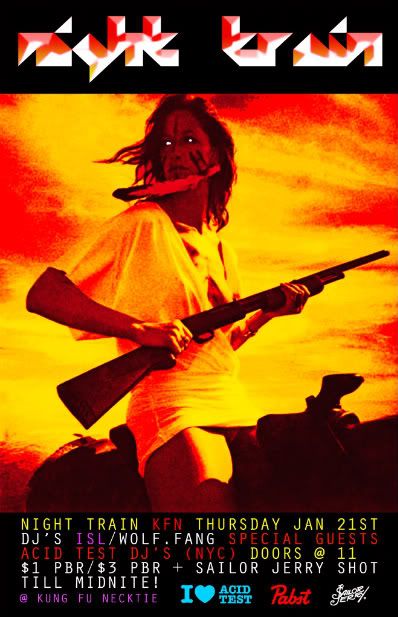 Loaded like a freight train
Flyin' like an aeroplane
Feelin' like a space brain
One more time tonight ...
ISL AND WOLF.FANG ARE BACK WITH SOME SUPER DUTY TUFF WORK FOR 2010! STARTING JAN 21ST @ KUNG FU NECKTIE WE LAUNCH NIGHT TRAIN BACK INTO THE COSMOS WITH OUR VERY SPECIAL GUESTS
ACID TEST DJ'S
/1$ PBRS AND 3$ PBR/SAILOR JERRY SHOT FROM 11-12.EVERY THURSDAY NITE PARTY DOORS OPEN @ 11..NO COVER!! WITH HEAVY VIBES,ROCK CANDY JAMS AND DANCE FLOOR FREAKSCENES FROM SOME WORD CLASS GUYS AND GIRLS..
HERE'S A BITE OF PEACH..THE STEPPENWOLF EDIT FROM ACIDTEST DUDE, "SPIRITBEAR"..ENJOY..
Nazareth – Hair of the Dog ( Spiritbear's Pawed-It )